Nation.Africa Digital Summit – 2nd Edition
The second edition of the Nation.Africa Digital Summit kicked off on 2nd March 2022 at the Sarova Whitesands Hotel and Spa in Mombasa, exactly one year after the first event that attracted over 300 physical and virtual participants. The conference brought together digital experts from Kenya and across the Africa continent.
The gathering of stakeholders and experts presented and discussed ideas, innovations, discoveries, and perspectives on the increasingly digitised world. It presents a learning opportunity for corporate executives, decision-makers in government and academic institutions, leaders of small and medium enterprises and others who are keen to enhance digital technologies in their operations.
The summit will be about exchanging of ideas, inspiring and helping organisations to apply the most appropriate tech and digital strategies in line with the trends and demands of the world.
The summit, a hybrid in-person and virtual conference hosted under the theme; "The Global Tech-Over" run for three days and discussed the development of innovative solutions to empower different sectors and create a partner ecosystem across Africa and reviewed the tech revolution.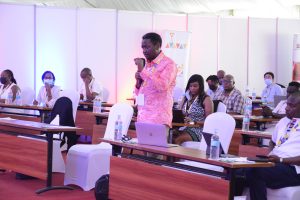 In his opening remarks, NMG PLC Editor-in-Chief Mutuma Mathiu said the company's products have changed in the past 15 years and that it is ready for a digital revolution. "We have had an overwhelming season of change and communication revolution and we have make use of digital change," said Mr Mathiu.
Speaking at the second day of the conference  Data Protection Commissioner Immaculate Kassait said institutions should ensure data is only used for its intended purpose.
"It is a crime to collect data and use it for unintended purposes. Any individual has a right to seek protection of his or her data by even asking any organization, more so marketing firms, how they got the data," Ms Kassait said.
ICT Chief Administrative Secretary Maureen Mbaka said the government has set up different platforms to ensure there's adequate skilled work to move digital transformation forward.
Ms Mbaka said data shows more than 90 percent of jobs globally have a digital component and hence the need to equip everyone with the right digital skills.
"As the ministry and government, we are working from the community level to ensure Kenyans are equipped with the right knowledge on using technology. This is done through building both capacity and infrastructure," she said.