NMG establishes Foundation with an eye on attaining SDGs
The Nation Media Group (NMG) has established a foundation to accelerate its contribution and upscale initiatives towards attainment of the Sustainable Development Goals.
Dubbed the Nation Media Foundation (NMF), the foundation will steer the Group's focus on positively influencing the society, even as its brand portfolio within the region, widens.
Through strategic partnerships with like-minded organisations, NMF will therefore, institutionalise NMG's efforts into consistent, deliberate, and targeted interventions that will have a wider reach and bring about sustainable transformation.
The foundation will serve as the nexus between business and development, identifying and expanding the connections between socio-environmental and economic progress.
Through the years, the NMG has evolved in many ways, diversifying its products. And now, the foundation will epitomise the group's mission of "positively influencing society", NMG Chairman Wilfred Kiboro said.
"In playing our role in society, we do realise that we cannot do this alone. To be able to contribute significant long-lasting impact to society, we need partners like yourselves to come together to not only co-create solutions for the community and upscale activities in our focus areas – education, environment, climate change, media development, leveraging on our convening power," Dr Kiboro said.
He was speaking during the Nation Media Foundation stakeholder engagement breakfast, where he said that the partnership the group envisions may take many from co-creation of ideas, technical support, financial, to pooling of resources.
"I want to assure you that in us you will find an organisation aligned to your mission of empowering the society while benefitting from our convening power and our multi-media strength to amplify the impact of these initiatives," he said.
Dr Kiboro said that when the NMG was founded more than six decades ago, it was established on the bedrock of a set of core values to espouse independent voices, diversity and freedom of expression. This mission, he said, has remained unchanged over the years. Even so, NMG, he explained, has expanded significantly in its brand portfolio.
"I personally count the establishment of our foundation as an ultimate attainment of our mission. I am so convicted because The Foundation epitomizes what the Nation Media Group stands for.
Dating back to our beginnings, it has been in our ethos to create value for communities around us," he said, adding that the foundation therefore crystallises all the efforts spanning six decades of serving society.
Its formation coming at a time when the country is grappling with many challenges, NMG Chief Executive Officer Stephen Gitagama said, the foundation will focus on education and literacy, the environment and natural resource management, health, media development, and community development through entrepreneurship and humanitarian relief.
According to the CEO, the foundation adopts a shared value concept where, as opposed to responding to the symptoms, the approach solves the exact societal problem.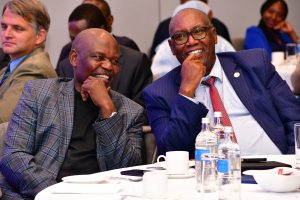 "The Nation Media Foundation will deliver on these areas with sharp programmatic interventions for which we have developed a five-year strategic plan. In doing this, the foundation adopts the shared value concept … it is about sustainability, in place of touch-and-go interventions. It is about addressing issues in a long-term way, rather than only focusing on the here and now. In essence, our commitment to the five thematic pillars will be consistent, with the intention of realising real impact and tangible transformation," Mr Gitagama explained.
He went on: "We chose the shared value approach as it is about aligning the interests of the business with that of society. As Nation Media Group, it is in our interest that we serve a society that has high literacy skills, because only then can we effectively dispense our mandate to educate, inform and entertain. In the same vein, it is in our interest to serve communities that are economically empowered through enterprise, communities that are healthy and productive, and that are free from hunger and starvation. Generally, it is in our interest that we operate in a prosperous environment, just as it is in the interest of our communities to prosper."
The foundation, which will be launched at a later date, aims to alleviate the effects of a problem by attending to its root causes.
"It is this logic that has inspired us to set up a foundation that will tackle specific socio-economic challenges from the ground up," Mr Gitagama said.
"We are already embarking on our pilot programme for the Education and Literacy component and will soon be launching the Nation Media Foundation."